AYE WRITE 2019 - THE GLASGOW BOOK FESTIVAL
Posted on
On Saturday 30th March, I appeared at Glasgow's 'Aye Write' Book Festival in the iconic Mitchell Library, one of Europe's largest public libraries, and it did feel good to be 'on stage' for something I had written. Even better, I had a full-house audience of about sixty in my venue. That may not seem a lot but the organisers were thrilled as a very well-known TV sports personality, flown up from London specially, had achieved an audience of only eight.
A particularly pleasing aspect of the event were that a young university graduate (Nottingham, I think) who had applied to join the Navy and had read my book, turned up to meet me. How wonderful to think that an old git like me can still connect with a very much younger generation. (The young man has since been accepted into the Royal Navy and is currently undergoing officer training at Dartmouth). After my presentation, I was asked to autograph books sold - all very humbling. (Waterstones were selling the books).
PS At his invitation, he invited me to be his guest at his Passing Out Parade at Dartmouth where I meet his family. Wonderful!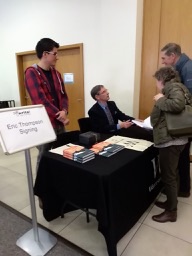 As I am accustomed to public speaking, facing an audience held no terrors for me. My only anxiety was whether or not my Powerpoint audio/visual slide show would run on cue on the Library's system. It did. Phew! I have nightmares about technical hitches in the middle of carefully constructed presentations. (I'm trying to find out how to put this slideshow into my website; watch this space).