Submarines
FIFTIETH ANNIVERSARY OF THE FIRST UK POLARIS PATROL
June 2018 will see the fiftieth anniversary of HMS
Resolution
sailing for her first operational Polaris patrol. The Royal Navy had just inherited the baton of strategic nuclear deterrence from the Royal Air Force's V-bomber force - and let us never forget the courage of those brave bomber crews. Their mission, in the event of a Third World War, was to deliver Britain's nuclear counterstrike into the heart of Russia. Whether those brave men accepted it or not, that seems to me to have been a suicide mission. It was certainly a lot more dangerous than quietly creeping round the ocean with a load of intercontinental ballistic missiles.
To put things into historical perspective, at that time, HMS Andrew (see photo below), carried a gun with a range of a few miles. Resolution's missiles had a range of some 1500 miles. Also, 1968 was fifty years from the end of the Second World War but perhaps more importantly, was the year I joined the Submarine Service. That would certainly have deterred the Soviets.
The fact that my memoirs, On Her Majesty's Nuclear Service, will also be published in 2018 is purely coincidental.
REAL PERSON
In the painting shown below of HMS Repulse, the last Polaris submarine, leaving the Gareloch, the artist has faithfully painted a sailor standing at the after end of the missile deck. Through this website, I have been contacted by LRO Simon Williams who was serving in Repulse at the time. (I was not). 'The sailor standing at the after end of the missile deck, holding on to the end of the paying-off pennant is me,' he informed me. How wonderful. Until then, I had never considered that the painted sailor could be a real person!
SUBMARINE ENTERTAINMENT
Life was never dull on submarine patrols.
One of the highlights was entertainment on the SRE, the piped music system on which 'concerts' could be broadcast. I shall attach three unique audio tapes of such concerts when I work out how to do it.
The first, in November 1979, in the old World War 2 built submarine, HMS Andrew, is of a St. Andrew's Night concert in the middle of a submarine versus submarine exercise to the west of the Hebrides. As we were up against the nuclear-powered HMS Valiant and the USS Nautilus, the world's first nuclear-powered submarine, we didn't stand a chance. So the concert became our main priority.
As we went deep and quiet to hold the concert, we baffled the Exercise analysts who could not figure out why Andrew had simply disappeared for 24 hours.
The other tapes are from Revenge and were recorded on strategic nuclear deterrent patrols.
'Royal Divisions in the Floating Dock' is a spoof inspection of the ship's company by Her Majesty the Queen in the ridiculous setting of the dock bottom.
'How the Mess Was Won' is a pseudo wild western tale in which Big Bad Barry, the XO, denies the Stokers their own mess deck. It's a true story set to music, country and western of course.
http://www.iwm.org.uk/history/radio-revenge-entertainment-on-cold-war-submarines
CLOSING A LOOP
As Leading Mechanic James 'Bungy Mac' McWilliams, shown with me below, tragically was murdered in an unprovoked attack in Liverpool some years ago, and as I refer in my book to his heroism in HMS Revenge, for which he was awarded the Queen's Gallantry Medal, I wanted to contact his mother but did not know how.

I tried to obtain his former address from the Central Chancery of the Order Knighthoods (the office which proclaimed his Gallantry medal) but received no reply. Then I tried the Submariners' Association and the wife of one of Bungy's shipmates from his Revenge days contacted me with his address and telephone number from thirty years ago.
So I telephoned the number and to my astonishment, it was Bungy's Mum who answered. I had met her at Buckingham Palace in 1979 when Bungy was receiving his award. It was one of those life re-affirming moments.
She was so thrilled to hear that her son had not only been remembered but would be remembered in a book. It was, she said, the best news she had received in years.
She had not only lost her son; she had also lost her daughter-in-law, her granddaughter and her husband (due to a heart attack on Christmas Day). Christmas was not the happiest of seasons for her.
I shall be presenting her with a signed copy of the book which no doubt she will keep along with Jimmy's (Bungy's) medal which she treasures. I attach the citation for his Queen's Gallantry Medal below.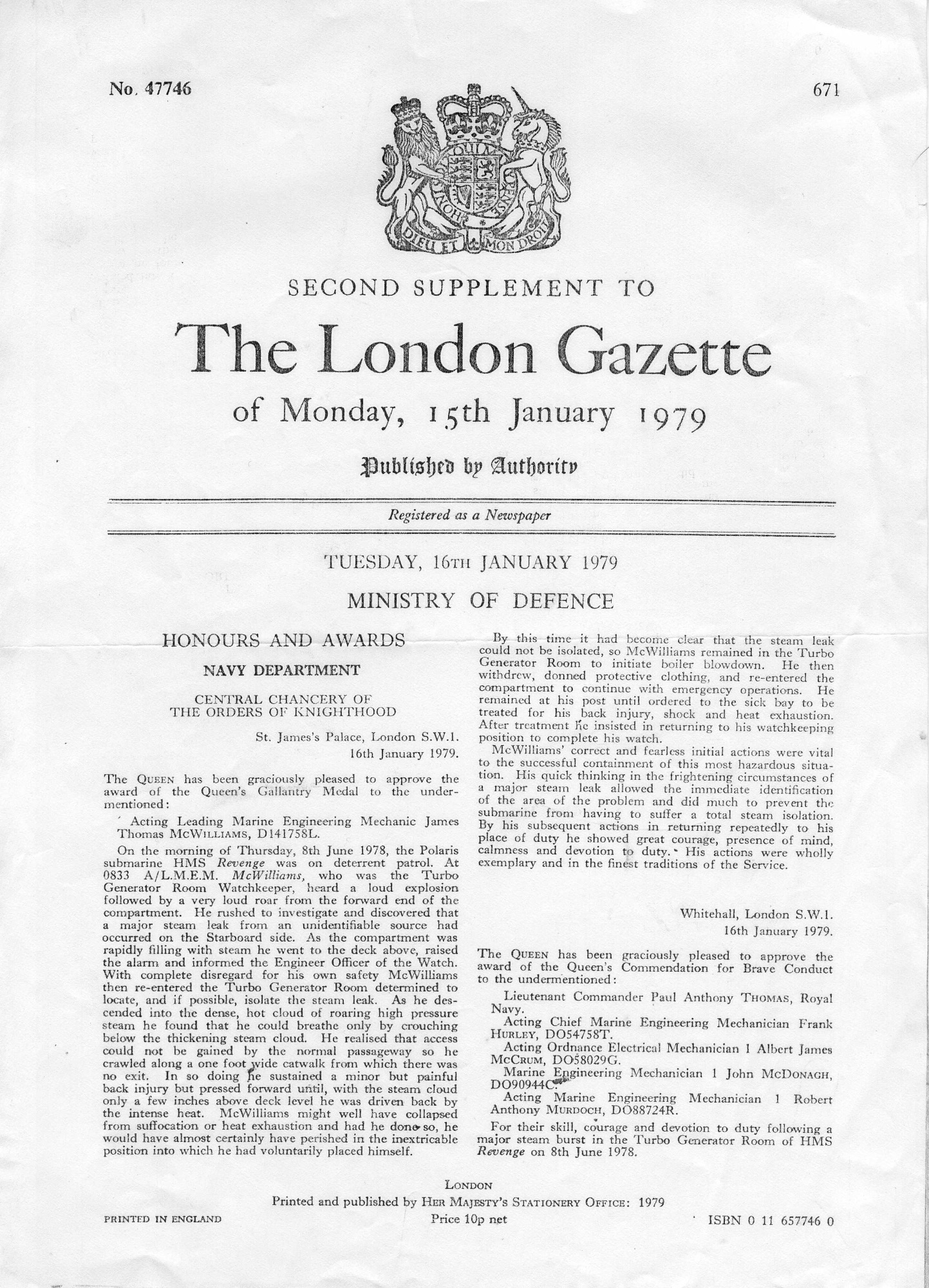 The disappearance of the Argentine Navy submarine San Juan is a reminder of the risks faced by submariners in the service of their countries. Submarine disasters are rare but submariners are exposed constantly to multiple hazards and must continuously observe strict safety disciplines. Even so, problems can arise which are beyond the control of even the best-drilled crew. The greatest hazards are fire, flood, explosion, collision, material failure, toxic atmosphere and, in the case of nuclear boats, radioactivity. These exist without enemy action.
The San Juan was a German-built, diesel-electric submarine. She entered Argentine Navy service in 1985, was thirty-two years old and no doubt suffered age problems. Indeed, she was returning to base because of a main battery fault, a two thousand mile voyage in hostile sea conditions. USS Thresher was sunk in 1963 with all 129 crewmembers lost. In diesel-electric submarines, the battery is crucial; it is the only source of power when below periscope depth. Without electrical power, a diesel-electric submarine can neither propel nor pump out excess water which may be causing her to sink.
As San Juan sent no further signals after reporting a battery problem, it may be concluded either that she had lost electrical power, at least to her radios; was below periscope depth and unable to transmit; or her crew had been incapacitated; or all three. The Comprehensive Nuclear Test Ban Treaty Organisation (CTBTO) in Vienna reported an unexplained non-nuclear explosion in the South Atlantic at the time of the San Juan's disappearance. That explosion could have been either an on board explosion or the hull collapsing at depth whilst sinking to the deep ocean floor. An internal explosion could have been caused by hydrogen coming from a damaged battery system or by a torpedo detonating, the latter seeming unlikely given the known battery problem. The explosion could have incapacitated her crew, caused a major leak, and denied her all power.
Hull collapse would have been inevitable if she was off the continental shelf and sinking. Above a certain depth, the crew could have blown her buoyancy tanks – that does not require electrical power – and surfaced, but in heavy seas she would still require power to retain buoyancy. If the atmosphere on-board was toxic following an explosion, the crew, if still alive, would then have faced the option of death by gas poisoning or by drowning – there is no upper deck on a submarine and liferafts are not carried.
The disappearance of the San Juan may never be explained though loss of all electrical power due to a battery explosion seems most likely. In 2000, Russia's Kursk was lost due to a torpedo explosion. The Soviet Komsomolets sank in 1989 as a result of a devastating fire. In 1963, the USS Thresher sank due to flooding caused by a burst seawater pipe. The cause of the last British loss, HMS Affray, in 1951, remains unknown but is thought to have been due to material failure whilst snorting (snorkelling). A few men escaped from Komsomolets only to be drowned; the other boats sank with all hands. Submarines do not fail safe.
Post Scriptum
One week later, the Argentine Navy finally released the information that the San Juan's last message had been that water had come into the engine room via her snort (snorkel) mast, drained into her after battery compartment and short circuited the main battery. That almost certainly meant shorting out her main electrical power system and denying her all power. Seawater entering an acid filled battery would also have led to the generation of deadly chlorine gas. The submarine had in effect been turned into a gas chamber. What a hellish way to die: sinking, gas poisoning, violent seas and pitch darkness.
Speculation
The big unanswered question is why did the submarine not surface and call for help as soon as it was in trouble? That would have been the natural thing for a submarine to do. This leads to some speculation. The Argentine Navy also released a track chart showing where the submarine was said to have disappeared. That track passes relatively close to the British held Falkland Isles.
There is evidence that the Argentine Navy has been spying on the Falklands; they would, would they not? We would in their situation. So, could it be that the San Juan did not surface in emergency because she was in British territorial waters? Argentine Navy HQ may have told her to get out of British waters before surfacing. That could also explain the Argentine Navy's delay in announcing her disappearance. By the time she had cleared British waters submerged, it was too late. RIP
--------------------
THE SUBMARINE MUSEUM COLD WAR EXHIBITION

This panel appeared in the Royal Navy Submarine Museum's Cold War exhibition. The Museum wished to show the essential contribution of Submarine Engineer Officers in our nuclear submarine programme. It shows me outside Buckingham Place in 1979, having just been awarded my MBE by the late Queen Elizabeth, the Queen Mother.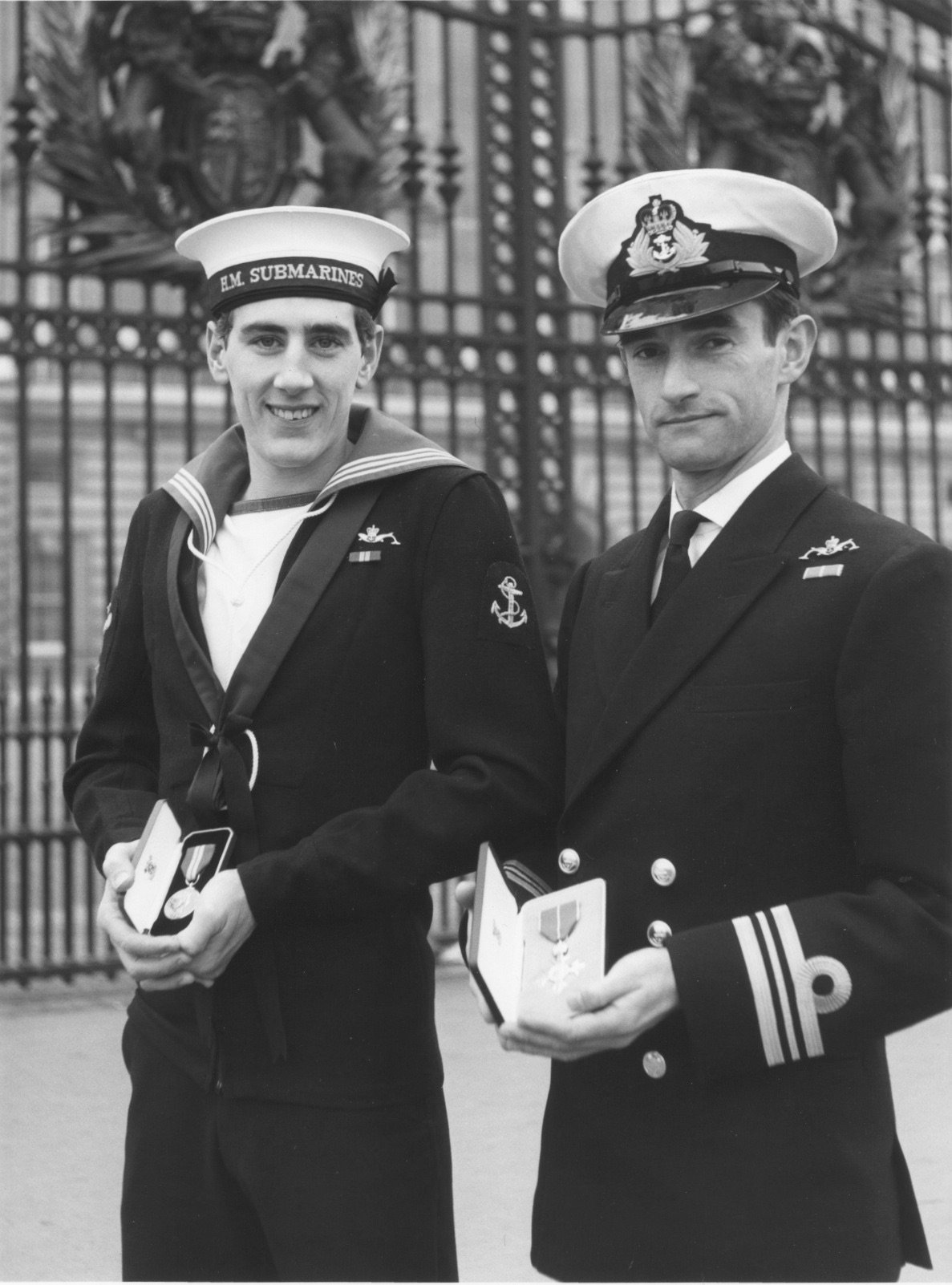 I was accompanied to the Palace by shipmate Leading Mechanic James McWilliams, 'Bungy Mack', who was awarded the Queen's Gallantry Medal for his courage in dealing with a major steam leak while on watch with me during a nuclear deterrent patrol.

As my parting gift to the Navy, I commissioned this painting of the last Polaris submarine, HMS Repulse, paying off for scrap. It was painted by local artist, Leslie Diaper, and now hangs in the Wardroom of HMS Neptune at Faslane. It seemed a fitting gift as the Polaris programme had spanned my career almost exactly. During that time, our four Polaris submarines, Resolution, Renown, Revenge and Repulse had maintained an unbroken, twenty-eight year sequence of 229 strategic nuclear deterrent patrols - a feat achieved thanks to the quality and determination of the crews and the impressive support facilities in the Base. These boats had been the country's duty peacekeepers. In 1996, they handed the baton over to the then new Trident submarines.
As my great friend, Commander Jeff Tall OBE RN, then the Director of the Royal Navy Submarine Museum in Gosport reported incorrectly in his newsletter that I had been presented with this painting, I had to send him this sharp epistle.
Dear Jeff,
DISINFORMATION
I write with apoplectic fulmination over the inaccuracy of your report in the latest submarine newsletter that Leslie Diaper's painting of the last Polaris submarine leaving the Gareloch was presented to me. Bollocks! It was presented by me - to the Wardroom HMS NEPTUNE wherein it doth hang and so should you. I paid for it! A plague on your disinformation.
Yours sincerely,
Eric
--------------------------------------------------